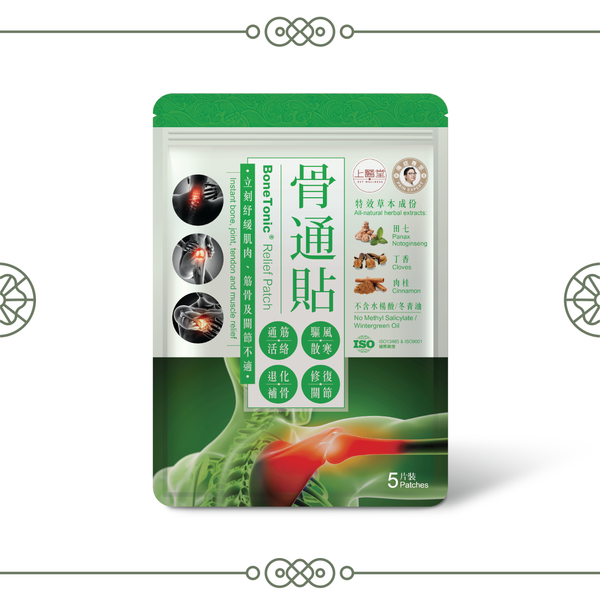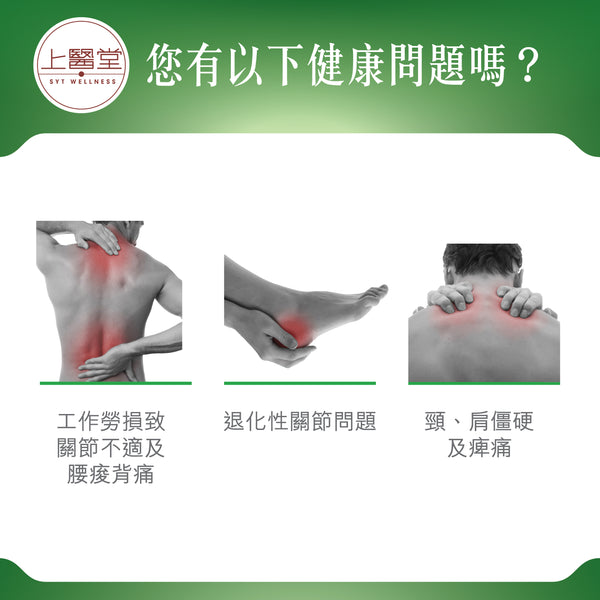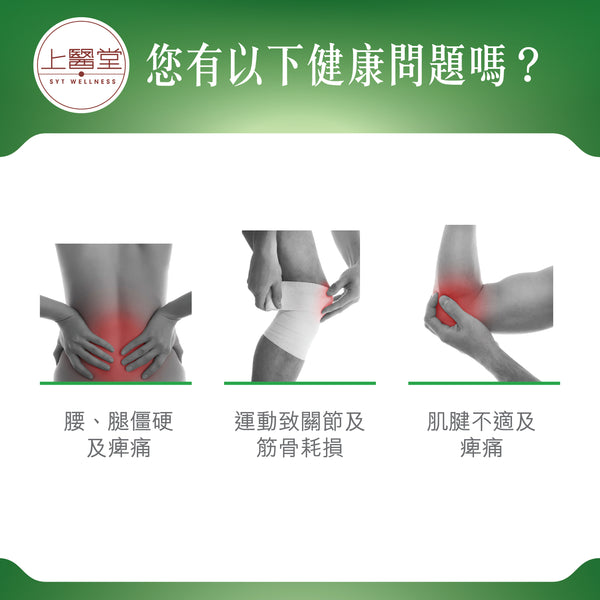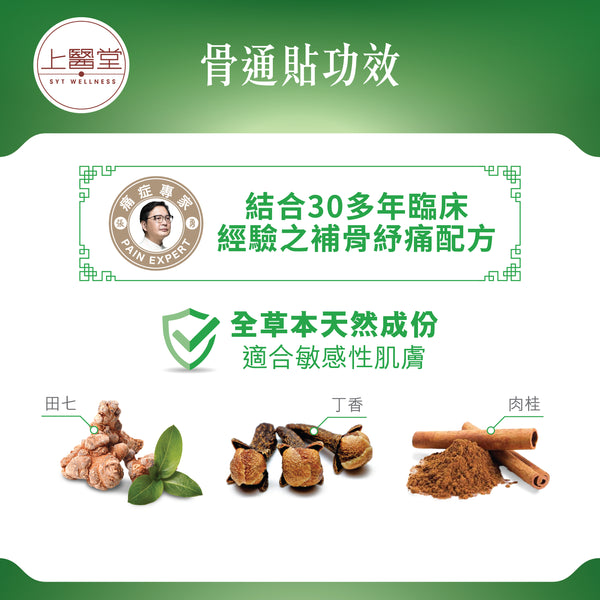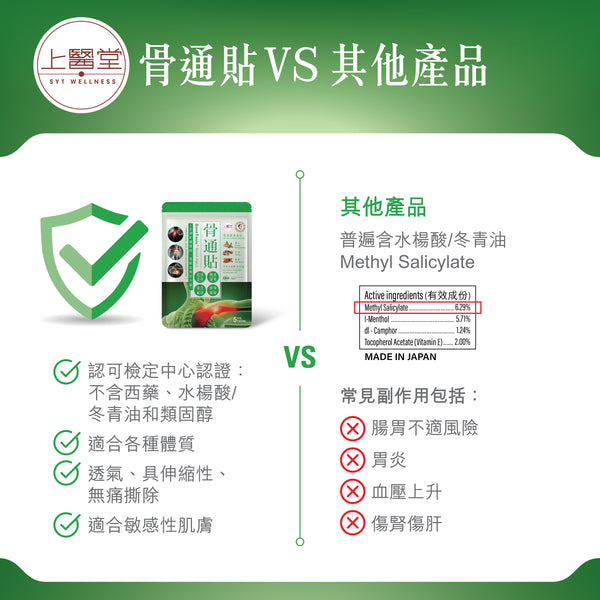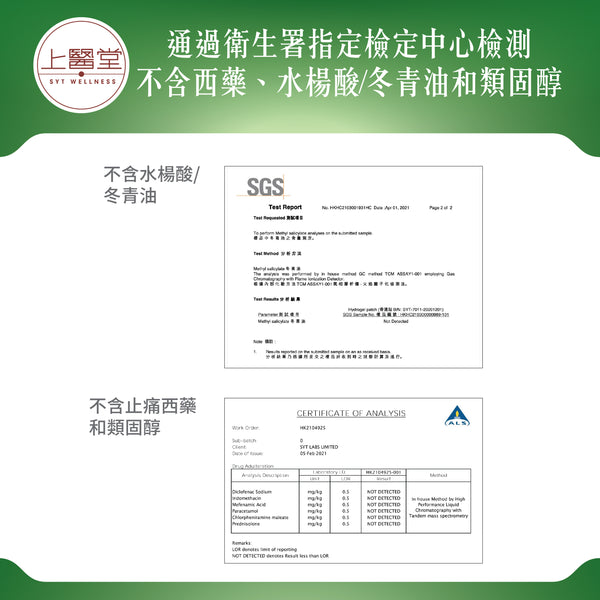 BoneTonic Relief Patch®【Natural Pain Relief】 5 pieces per pack
A pain relief patch formulated locally by world-renowned Hong Kong health expert
Many people nowadays succumb to joint and back pain caused by a hectic work life, poor posture and sport injuries. With the problem affecting people of all ages and in different occupations, our BoneTonic Relief Patch is the ideal pain-relieving solution for joint health.

Developed by our founder, Cheung Yung, who has over 40 years of clinical experience, our evidence-based, proprietary formulated and all natural, herbal pain relief patch consists of various herbal ingredients, including panax notoginseng, boswellia, cloves and cinnamon. Its benefits can be felt immediately, especially when it comes to muscle and joint pain.
Buy BoneTonic Relief Patch
The BoneTonic Relief Patch aids in replenishing degenerative joints, strengthens bones and the tendons, while helping your muscles recover from over exhaustion or chronic injuries. It also works as an anti-inflammatory, which helps reduce swelling and chronic pain.

As a company that prides itself on selling joint health supplements, our products don't contain any western medicine, methyl salicylate, steroids, etc. It is also suitable for most people.
The BoneTonic Relief Patch is suitable for people with the following health problems:
Joint discomfort and back pain due to over exhaustion and bad posture
Degenerative joint problems
Stiffness and numbness in the neck, shoulders, waist and legs
Pain in tendons
Joint, muscle and bone discomfort caused by exercise or sports
Our Hong Kong formulated joint health supplements include a range of ingredients, such as panax notoginseng, cloves, boswellia and cinnamon, etc. With many evidence-based ingredients, it is the optimum choice for easing bone degeneration, soothing muscles and relieving fatigue.

All joint supplements that can be bought online are produced under supervision and meet international standards (ISO13485 and ISO9001). They have also passed safety tests conducted by the Hong Kong Laboratory Accreditation Scheme(HOKLAS) accredited third-party testing centres.
Frequently Asked Questions
What ingredients are used in the BoneTonic Relief Patch?
The BoneTonic Relief Patch contains more than 10 kinds of special herbal ingredients, including panax notogingseng, boswellia, cloves and cinnamon that effectively relieve the discomfort of bones and joints, while keeping the tissue healthy, acts as an anti-inflammatory and reduces swelling.
How many BoneTonic Relief Patches can be used every day?
You can use up to two BoneTonic Relief Patches on the same part of the body every day. Each patch lasts for six hours. However, you need to wait two hours before applying the second patch.
Will using the BoneTonic Relief Patch cause allergies?
The ingredients of the BoneTonic Relief Patch are natural and mild. With laboratory testing and certification, it does not contain salicylic acid/wintergreen oil and other relatively more allergic ingredients. In addition, the fabric of the BoneTonic Relief Patch uses breathable and anti-allergic hydrogel material. The BoneTonic Relief Patch helps boost joint health.

Buy SYT Wellness' BoneTonic Relief Patch, natural herbal products, and other Chinese medicine merchandise on our e-shop and HKTVmall!